About this Micro Virtual Instructor Led Training (VILT)
According to Norsok D-010, well integrity is defined as the "application of technical, operational and organizational solutions to reduce the risk of uncontrolled release of formation fluids and well fluids throughout the life cycle of a well".
Well Integrity is defined in ISO/TS 16530-1 as "containment and the prevention of the escape of fluids (i.e. liquids or gases) to subterranean formations or surface".
In API RP 65-2, well integrity is defined as "a quality or condition of a well being structurally sound with competent pressure seals by application of technical, operational, and organizational solutions that reduce the risk of uncontrolled release of formation fluids throughout the well life cycle".
Following from the aforementioned definitions of well integrity, the personnel planning the drilling and completion of wells will have to identify the solutions that give safe well life cycle designs which meet the minimum requirements of the standard.
Micro VILT Group Pricing:
SGD$1,200 per person / USD$ 889 per person
(Minimum 5 persons per group session)
For more details on pricing for larger groups or customisation of course outline, call us at +65 6741 9927 or email info@asiaedge.net
Delivery of this Micro VILT:
The Micro VILT will be delivered through Zoom, MS Teams or equivalent video conference platforms in combination with other online interactive training tools.
Micro VILT Duration:
The Micro VILT will be delivered online in 1 session comprising 4 hours, with 2 breaks.

Micro VILT Course Materials:
All participants will receive softcopy course materials (PDF format).
Breakdown of Modules:
Module 1: Overview
Design & Selection
Understanding the Barrier Envelopes
Barrier Life Cycle
Module 2: Verifying the Well Barriers
Initial Construction and Testing
Planned Preventative Maintenance & Testing
Well Barrier Diagrams
Module 3: Threats to Well Barriers
Corrosion, Erosion, Solids production (Sand, Scale etc)
Elastomer degradation, fatigue TSA
Understanding Loss of Containment Planning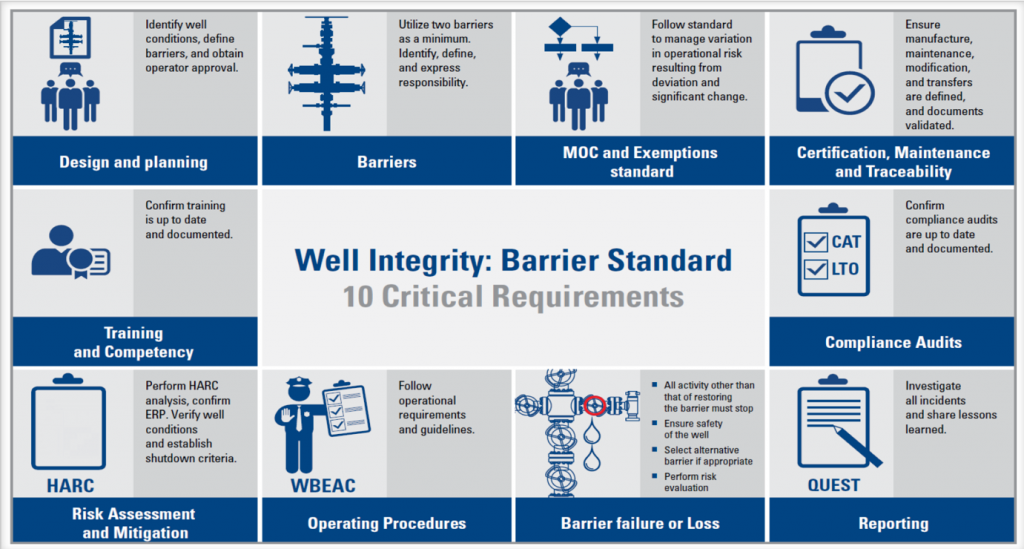 Best Feature of the Micro VILT:
Trainer analysis.
Ease of access.
Trainer was prepared and well versed with the available technology.
The videos.
Less interruptions.
It is online while working at home.
The presentation.
This topic is very relatable to my job.
The interactive nature of the course; it was easy to ask the trainer questions, and these were quickly /easily answered.
Remote access.
I really appreciate the class notes and presentation being sent out afterwards so that it can be revisited as needed.
Invaluable for production, operations, and integrity professionals involved in implementing & managing well integrity and seeking to improve performance. It is also essential for those who need to develop and implement such systems, or who have a general need to know and understand more about well integrity management. The Micro VILT will also provide a fresh approach for senior professionals and managers.
Designed for professionals in the oil and gas industry who are involved in the design, construction and operation of wells from the following disciplines:
Production Maintenance
Production Operations
Drilling Engineering
Safety engineering
Well Intervention
Well Integrity Engineering
Asset Management

Gordon Duncan has over 40 years of experience in the Oil & Gas industry. During that time, he has worked exclusively in well intervention and completions. After a number of years working for intervention service companies (completions, slickline & workovers), he joined Shell as a well service supervisor. He was responsible for the day-to-day supervision of all well intervention work on Shell's Persian/Arabian Gulf platforms. This included completion running, coil tubing, e-line, slickline, hydraulic workovers, well testing and stimulation operations. An office-based role as a senior well engineer followed.
He was responsible for planning, programming and organising of all the well engineering and intervention work on a number of fields in the Middle East. He had a brief spell as a Site Representative for Santos in Australia before joining Petro-Canada as Completions Superintendent in Syria, then moved to Australia as Completions Operations Superintendent for Santos, before returning to Shell as Field Supervisor Completions and Well Interventions in Iraq where he carried out the first ever formal abandonment of a well in the Majnoon Field. While working on rotation, Gordon regularly taught Completion Practices, Well Intervention, Well Integrity and Reporting & Planning courses all over the world. In 2014, he started to focus 100% on training and became the Technical Director for PetroEDGE.
Since commencing delivering training courses in 2008, Gordon has taught over 300 courses in 31 cities in 16 countries to in excess of 3,500 participants.
Learn what past participants have said about PetroEdge training courses
Course was presented very well and trainer was beyond expectations.
Bureau of Safety and Environmental Enforcement, USA
Fantastic class. Loved learning about well barriers since it is a big part of what my job is as a workover engineer.
Bureau of Safety and Environmental Enforcement, USA
Great course!
Bureau of Safety and Environmental Enforcement, USA