We are proud to announce that Petroedge and PowerEdge, two leading training companies in the energy industry, is now called EnergyEdge.  This move has been driven by the need to integrate our Oil & Gas, Power Utilities and Renewable training courses into a single brand that better represents the evolving energy landscape. The current momentum of energy transition has been a significant factor in leading this change.
About our training services
Against a backdrop of evolving work demands and skills requirements, professionals in the Energy industry are constantly required to re-invent and re-skill themselves. To meet this challenge, we provide up-to-date, practical and technically sound training solutions that enable energy industry professionals to remain relevant in the industry.
Our competency-based courses specify existing and new skills that you will require to deliver the job successfully. Our courses have been designed to equip you with the skills and knowledge that meet the needs of operating companies within the industry. This enables you to immediately apply what you have learnt after attending our courses in your workplace, hence, driving value and positive impact for your organisation. Our training solutions are also presented by qualified top-notch practitioners who have gained practical experience working for leading Energy industry majors and service providers from around the world.
Our training services in the Energy industry cover the following areas:
Engineering, science and business courses for engineers, scientists and business support professionals in the Oil & Gas, Power Utilities and Renewable sectors.
Leadership, management and strategy development courses for technical and business support professionals
Technical training consultancy, coaching, industrial site visits and technical documentation development
Development and execution of virtual live training, e-learning and virtual reality (VR) based learning training solutions
Choosing a suitable training course or solution will depend on your individual competency requirement and business need. In each of these areas, there is a list of courses available to reflect the different levels of skills required and supporting subject matter.
Here are 5 compelling reasons why you should engage us as your learning partner:
1. Pool of highly knowledgeable and experienced course facilitators
All of our course leaders boast an unbeatable combination of practical work experience in companies, together with extensive experience in delivering training. They are skilled, inspirational communicators who have confronted and resolved many of the problems you and your organisation face daily.
2. Research-led, industry and market driven course curriculum
In order to maximise the use of your time, we sift through the latest technology practices and management concepts in the energy industry from around the world and condense the most vital information to give you a valuable resource. All of our courses address a specific objective which has been identified through research by industry practitioners. This will equip you with practical skills that can be applied within your company immediately.
3. Stimulating course delivery
Our expert course leaders use a variety of learning methods and experience including group, pair work, case studies and self-evaluation assessments. Depending on the nature of the course, they will also exploit key learning approaches such as action-based learning, transactional analysis and neurolinguistic programming where appropriate. Each course aims to provide you with an ideal balance between knowledge acquisition and the opportunity for peer-to-peer discussions and sharing.
4. Certification
Upon successful completion of our courses, you will receive a Certificate of Completion or Certificate of Achievement if there was an assessment provided post training. This recognition, selectively accredited by our partners such as ICLM, IChemE and UKLA, can be added to your record of continuing professional development (CPD).
5. In-depth insights of the Energy industry
Our in-depth understanding and appreciation of the Energy industry allows us to align our capabilities to meet the business objectives of our clients beyond what other providers are able to. Our passion is to facilitate the development of a knowledge-based industry that is ready and equipped to face future challenges. Our clients have come to rely on us to meet their respective knowledge and skills development requirements over the years of collaboration.
EnergyEdge is a training division of Asia Edge Pte Ltd. AsiaEdge is an accredited CPD UK training provider and a recognised member of the Energy Institute (UK).
Our selected courses are accredited by the Institute of Leadership & Management (ILM), The Institution of Chemical Engineers (IChemE), The United Kingdom Lubricants Association (UKLA), the International Council for Machinery Lubrication (ICML) and the Institute of Asset Management (IAM).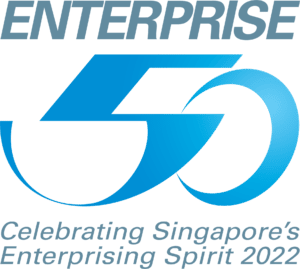 Asia Edge Pte Ltd (EnergyEdge) are proud recipients of the Enterprise 50 (E50) Award.
Established in 1995, the E50 Award is a valuable endorsement and highly coveted mark of recognition that highlights the significant efforts of the 50 most enterprising local, privately-held companies who have contributed to the economic development of Singapore. It is jointly organised by The Business Times and KPMG in Singapore, with support from Enterprise Singapore, the Singapore Business Federation and the Singapore Exchange.