About this Virtual Instructor Led Training (VILT)
Well Engineers responsible for technically evaluating and authorising programs for drilling or working over wells must have the skill and competence to design oil and gas wells safely. They also need to be able to confirm that well delivery and intervention programs generate intrinsic Well Control Assurance. Such work programs must establish, verify, monitor and maintain suitable and sufficient barriers for the entire well lifecycle from spud to abandonment. Well Engineers must also be able to identify a suitable drilling or workover rig, capable of performing the work safely within its operational envelope.
The International Association of Oil & Gas Producers (IOGP) has documented expectations for Engineer and Approving Authority training in their Report 476 – Recommendations for Enhancements to Well Control Training, Examination and Certification. Further clarification has been provided recently in Version 3 (issued November 2019).
This 8 half-day Virtual Instructor Led Training (VILT) course aims to develop and assess the knowledge and skills required to meet the Well Control Assurance targets laid down in IOGP Report 476 which states that an Engineer needs to have the necessary depth and breadth of knowledge to be considered technically competent to authorise a Well Delivery program as fit for purpose.
In addition to delivering the Learning Outcomes defined in Report 476, addressing elements of well control that need to be embedded into well design, well work programming and well control equipment selection, the course also examines broader elements of well work planning including drillstring design and operational rig selection.
Assessment
Satisfactory command of critical knowledge and skills is assured by a 3-hour closed book exam. The exam contains a mix of multiple choice questions, calculation and written answers. The exam will address the entire syllabus. The exam is taken electronically. Participants are provided with a suitable formula sheet. The pass mark for issuing a Certificate of Competence is 70%. Participants who are not successful in obtaining a Certificate of Competence will be issued with a Certificate of Participation.
The International Association of Oil & Gas Producers (IOGP)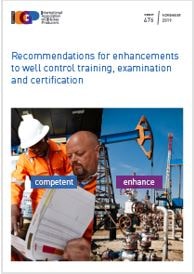 The International Association of Oil & Gas Producers (IOGP) is the voice of the global upstream oil and gas industry. Its members operate around the globe, producing 40% of the world's oil and gas. IOGP works on behalf of the world's oil and gas companies and organisations to promote safe, responsible and sustainable exploration and production.
IOGP Report 476 provides recommended enhancements to existing industry well control training, examination and certification processes, as well as related philosophies that should be considered for adoption throughout the industry to improve well control preparedness and performance.
The content of the report applies to all types of onshore and offshore well control operations worldwide. Its recommendations are applicable to the personnel who plan, approve and execute well work at any stage of a well's life cycle. The report is available from IOGP Report 476. This report is supported by 476chart, Well Control Training – Levels Guidance Chart. It is available from IOGP 476 Wall Chart.
Note: This VILT course is not endorsed by the IOGP. However, it aims to develop and assess the knowledge and skills required to meet the Well Control Assurance targets laid down in IOGP Report 476.
Competence Development
IOGP Report 476 identifies the following core skills which are addressed by this course:
Ability to design the well and well activities including ongoing maintenance of well control and integrity.
Ability to identify and specify actions to be taken when stepping outside of the normal operating envelope, particularly those actions required to maintain well control and integrity.
Learning outcomes:
At the end of this VILT course, participants will be able to:
Possess the capability to design and plan well delivery and workover activities, taking into account geological risks, formation pressures/strengths, and any existing integrity or local concerns.
Monitor wells operations and ensure they remain within the accepted design envelope.
Formally assess and mitigate risks and recovery/mitigation methods for effective recovery in cases where design envelopes may be at risk, including the use of deviations where appropriate.
Participants should be capable of assessing a Drilling or Workover Program and answering the following key questions:
1. Does the Program deliver a work plan that allows the well to be drilled or worked over safely?
2. Is the rig capable of delivering the work program?
• Does it have sufficient pressure ratings?
• Does it have sufficient mechanical capabilities?
• Does it have the broader operational capabilities?
3. Are there suitable barriers in place throughout the operation?
• How will they be verified?
• Are there enough?
• Who is responsible for them?
4. What is the kick tolerance for each open hole section? Is it realistic and sufficient?
5. Have all drilling hazards been suitably assessed and associated risk mitigated to a level as low as reasonably practicable?
Personnel directly or indirectly involved in the preparation, review or authorisation of drilling and workover programs. This includes (but not limited to):
Oil company and Operator Well Engineers & Drilling Supervisors who are responsible for planning & implementing Drilling and Workover Operations
Senior Well Engineers and Rig Superintendents who are responsible for managing Well Delivery
Drilling Contractor Well Engineers, Rig Managers and Senior Offshore personnel (OIMs, Drilling Section Leaders, Senior Toolpushers etc)
Regulator Technical Authority holders who are responsible for licensing Drilling and Workover Operations
Well Examiner Well Engineers who are responsible for approving and monitoring Well Delivery Operations
The VILT course and content is aimed at personnel responsible for the technical approval and authorisation of well delivery programs. It presumes participants already have an understanding of the principles of the design and/or delivery of oil and gas wells. As such, it is unlikely to be suitable for personnel with less than 5 years of relevant industry experience.
Your expert course leader has more than 30 years of experience in the Drilling Industry. He worked offshore as a Roustabout and Roughneck while studying for his B.Eng in Mining Engineering. After graduation, he joined Shell in 1985 and worked as a Drilling Engineer and Drilling Supervisor on-site and in the office in a wide range of onshore, offshore and deepwater environments.
He served as the examiner for Shell's "Round 2" Competence program and edited the Shell Well Engineering Learning Manual. He is the technical author of several corporate Well Control and Casing Design standards and training manuals.
Since 2000, he has worked as a Well Engineering Consultant. In addition to lecturing and general consultancy in Casing Design and Well Control, he specialises in Deepwater and HPHT Well Control coaching, rig team building and simulation. He pioneered the concept of "Drilling the Well on a Simulator", working closely with drilling simulator vendors, operators and drilling contractors to produce a realistic and relevant training environment. This enabled integrated rig teams to be exposed to well specific well control and other operational challenges, develop and then practice response strategies.
Learn what past participants have said about PetroEdge training courses
The trainer is an experienced guy on well engineering. Knowledge not only from books but greatly from his personal experience in the industry, which is much more beneficial for people improving in well engineering
Well Engineer, Shell China E&P
Very good trainer. Well prepared.
Drilling Engineer, Kangean Energy Indonesia